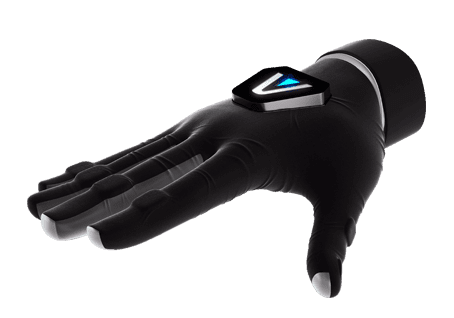 As human beings living on Planet Earth we all know technology is the fastest train on the tracks, making daily advances in all kinds of industries. Today we want to focus on a very specific stop of the technology train: VR gloves.
Even though VR gloves have been around for a few years now, we know they are still unknown turf for many people, and today we'll try to bring you a more comprehensive look into these accessories which can bring a whole new world of experiences to their users.
So let's start with some basic notions, like the different types of VR Gloves:
In the market, you will find VR Gloves aimed at VR gamers specifically, and you'll also find VR gloves aimed at a large range of industries, such as military, medical, for technology development and even design. So when it comes to which glove works best for you this will depend on the intended use for them.
The most popular types of VR Gloves nowadays are called "haptic", which is the type of technology used. Between the haptic gloves we can find 3 different types:
1- Traditional Gloves: these resemble traditional gloves, they are built with fabric to fit the hands, except for the fingertips, and are filled with sensors that provide feedback or stimulus to the hands.
2- Thimbles: In this case, an actuator is attached to the fingertip, in some cases, several thimbles are used to provide feedback to several fingers at the same time.
3- Exoskeletons: this is an articulated structure which is placed over the hand, and provides force directly to the fingertips and phalanges.
Below you will find a list of the most popular VR gloves to date, and the different uses for them:
Forte Data Gloves by Bebop Sensors:
These haptic VR gloves are aimed mainly for workplaces to use immersive VR experiences to train their employees. They are mainly used in the medical field, in design, object control (such as drones and robots) and even UI control to navigate maps.
Pros: It supports a large range of VR headsets such as Oculus Quest, Oculus Rift S, Windows Mixed Reality, HTC Vive Cosmos, HTC Vive Pro, HTC Focus Plus, Varjo and Oculus Link are all supported.
Cons: Even though it can be used for VR gaming, the Forte Data Gloves are mainly enterprise oriented.
Teslasuit Gloves by Teslasuit:
These gloves combine haptic technology at the fingertips with a plastic exoskeleton, it's also compatible with the entire Teslasuit for a more immersive (and extreme) experience, however, at this point it seems the entire Teslasuit technology (gloves included) are more industry and business oriented, and it could be a long time before they reach consumers. For them to get at the consumer point they would have to be redesigned, as at the moment they are one of the bulkiest VR gloves around.
Pros: It can gather biometric information from the user, such as the user's heart rate, which can help determine stress among other factors.
Cons: The haptic displays on the finger of the gloves are 10×17 mm, this means that they might not adjust to all hands sizes.
Haptx Gloves:
Haptx Gloves are also a combination of haptic feedback and an exoeskeleton, except Haptx Inc.also uses microfluidic technology – which has been patented by them – that let's you feel weight, movement, texture and shape of virtual objects.
Pros: The microfluidic technology gives an amazingly sensation of reality to the objects that touch your skin.
Cons: The bulkiness of the gloves and exoeskeleton makes it a bit hard to control very fine motor skills.
Avatar VR Gloves:
Compatible with Oculus Go, Samsung Gear VR, Vive, Daydream, Oculus Quest, Magic Leap, Microsoft HoloLens, Vive Focus. These gloves are also compatible with many mobile devices and work via Bluetooth, meaning you can take them with you wherever you go.
In difference from other companies, they created a campaign aimed specifically at visually impaired people, to be able to feel masterpieces with their hands, whereas other companies are only aimed at enterprises and gamers alone.
Pros: It ensures between 5 to 8 hours of use and the battery is compatible with mini usb to recharge.
Cons: The licensing can be quite costly and the minimum enrollment is one prepaid year.
Sensoryx VRfree Gloves:
While most companies offer a unique type of VR glove which can be used either for gaming or for industries, Sensoryx has developed a VR glove for each. These VR gloves are also compatible with several VR Headsets such as Oculus, HTC Vive, Valve Index, MS Mixed Reality, Samsung Odyssey, GearVR, Daydream, and they include a head module apart from the gloves, which you will have to mount onto your VR headset for them to work.
Pros: Both pieces of equipment – the gloves and headmount – are incrediblyt lighter in weight compared to the same equipment from other companies, which brings a more seamless experience for the user.
Cons: The need for an additional piece of equipment (the headmount) to use them with your VR headset.
Manus VR Gloves:
Manus VR offers 3 different models of VR gloves, being one of the companies in the market that actually offers them as gloves primarily for VR gaming, as the gloves are compatible with Oculus Rift S, Oculus Quest Link, and any SteamVR compatible headset.
All Manus VR gloves have interchangeable batteries which can make an almost seamless experience, are completely washable and have a 45 second calibration, which means that through a couple simple moves and only 45 seconds the Manus VR gloves can adapt to almost every user's hands.
Pros: Being compatible with any SteamVR headset makes them perfect for gaming.
Cons: They are not intended for personal use, they are enterprise oriented, and in order to get your hands into these gloves you need to pay a license that lasts a year, meaning, you'll have to renew your license after each year is completed.
Hi5 VR Gloves:
These haptic gloves have been designed specifically to work with HTC Vive, and it includes accessories to hold the HTC vive controllers. They have been created with antibacterial material that promises clean and dry hands. It currently has only a business edition
Pros: It works with only one AA battery, allowing a continuous play without the need to recharge them.
Cons: They don't have compatibility with other VR headsets.
FAQ:
– Are all VR gloves wireless?
Not all VR gloves are wireless, but the ones shared on this list are. We found this characteristic to be perfect for the user to have a more immersive experience.
– Are all VR gloves compatible for all headsets?
No, they are not. Make sure you check with the supplier before purchasing, as some of these gloves can't support all VR headsets.
– What is a haptic glove?
A haptic glove is a type of VR glove that uses haptic technology, this kinaesthetic communication or 3D touch, refers to any technology that can create an experience of touch by applying forces, vibrations, or motions to the user.
– How much do VR gloves cost?
There's a wide range of pricing you can find in the market for VR gloves, as with every product in the market, you can find very cheap off-brands, however if you want something durable that will actually work you have to be prepared to spend around $2000 to $5000 USD approximately.
– How do VR gloves work?
Most VR gloves work with bluetooth connection, though some include an additional accessory to attach to the VR headset.
Conclusion
Our thought on VR gloves is the following, they are an amazing tool, specially for industries such as medical, automotive and technology; however if your only aim is to use them for VR gaming we'd say you think about it twice, as it's a big investment you'd better be a hardcore VR gamer to make such a purchase, considering that at the speed technology advances they might be obsolete in only a couple months.
Have you tested VR gloves? Are they on your wishlist? Tell us what you think!
---
Custom branded VR cardboard creation company.