Improvement
Our pre-assembled units
V2.0 Standard
Our branded Google cardboard (inspired) V2 is a pre-assembled unit, so it's ready to use almost immediately. It's a best seller amongst clients. Based on Google's V2, it's the 2nd generation VR cardboard model. Released in 2015, it hit the VR world with a bang as the users favourite Cardboard VR glasses.
This unit uses E-Flute corrugated cardboard and includes full 4 colour (CMYK) print. This follows the guidelines demanded and provided by Google itself to Google Cardboard manufacturers.
Equipped with large 34mm lenses the headset offers an amazing VR viewing experience on your mobile.
If you have a meeting or convention, our VR goggles cardboard makes the perfect hand out gift due to it's quick start to use time and its ability to be easily stored for future use. In addition, you can select from a wide range of extras to make your cardboard even more unique.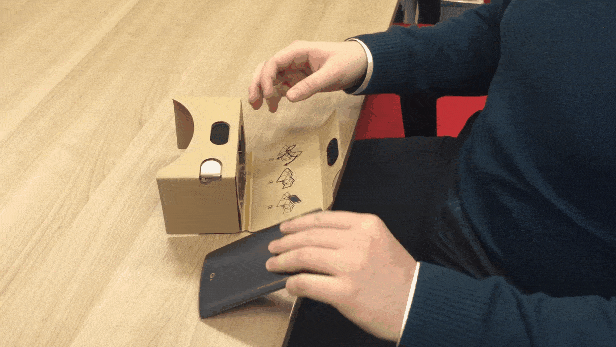 V2.0 Deluxe
It's our luxury high-end update to our standard V2 model. For the distinguished client, we've used higher quality materials to bring you the best looking custom Google Cardboard on the market.
When you buy our deluxe VR Google cardboard, we go one better and use white F-Flute corrugated cardboard with coated paper on either side, and a 5C (5 colour) printer. This is one of the highest quality prints any manufacturer prints at using the best cardboard material. The V2.0 Deluxe also counts with large 34mm lenses which are perfect for mobile VR viewing.
With the paper on par with Google's Works with Google cardboard (WWCG) certification. This is the choice of companies such as Paypal, Snapchat and Microsoft.
Impress everybody with the perfect units to convey a unique sense of style.
V2.5 Adjustable
With our Google cardboard (inspired) Adjustable lenses model, you can change the pupil distance on your viewers to your desired comfort level. This is the highest quality cardboard viewer on the market. Blasting Google's own manufacturing specs out the water with improvements to the product and print.
Our Google cardboard (inspired) adjustable lenses model is as easy to use as any other unit. It's as simple as positioning your phone in the unit and pulling the tabs located on either side of the unit to adjust the inter-pupillary distance (IPD) of the lenses. These are large 34mm lenses, which is optimal for mobile VR viewing
Among a big variety of extras with this unit you can opt to have an Augmented Reality hole in the front of the unit, which includes a tear strip to adapt to different phone sizes.
This unit also counts with a Deluxe level of print and materials, using F-flute corrugated cardboard (higher grade than the Google recommended cardboard) and 5C (5 colour) printer, giving your units an amazing depth in colours.
Last updated on August 13, 2021 by Maxbox VR